Loadscan — Load Volume Scanner
The Loadscan® Load Volume Scanner (LVS) system is based on laser scanning technology combined with proprietary Loadscan software that creates 3D model images of trucks to measure the exact volume of the material loaded in a truck or trailer bin. The range finder lasers used in the LVS system are of the highest quality on the market and are the only lasers available that pass the stringent metrological and accuracy testing required for Trade Approval. Combine this with Loadscan's interactive world class software, which was developed in conjunction with our civil construction company's requirements for a Truck Load Measurement system, and our Load Volume Scanner is the complete load management solution that is proven and trusted by industry.
When we made the decision to develop this product back in 1998, we faced a number of challenges, however, with the ability to live test the initial LVS system in a real world environment on our own construction sites, we learnt very quickly what specific functionality the sytem required to be a complete truck payload measurement system that would work in a variety of industries and challenging environments.
Some of the key aspects and functionality of the Load Volume Scanner System are
Accuracy of the measurement on all truck types and configurations. There are a range of checks and balances written into the LVS software so that the scanner does not report inaccurate reading if it cannot obtain one from the collected scan data.

Automated scanning where the trucks do not need to stop

Fast computations of the measurement records

Non-contact for low maintenance

Load data collection by manual input or auto fill

Convert volume, cubic meters/cubic yards, to weight

Portable, simple to set up and easy to use
LVS System Components
The standard block-mounted LVS configuration represented in the diagram below is designed for use with on-road trucks and small off-highway articulated dumpers. Alternative solutions are available for mobile and portable systems, larger off-highway haul trucks, underground mine trucks and other applications. Vehicles are scanned by driving slowly below the elevated Scan Head. The scanning process is fully automated. A touch-screen Operator Console provides for easy operator control and monitoring of the system and a high visibility LED Message Board displays load results, driver instructions and status messages. A Ticket Printer optionally prints loading tickets.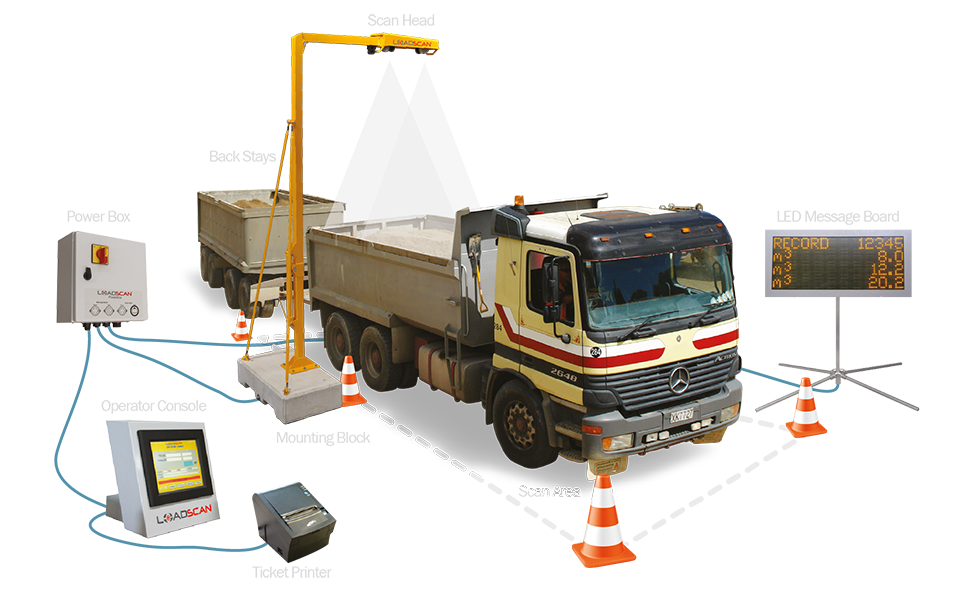 Main Features
Fast, accurate load measurement in cubic metres or cubic yards

Non-contact, low maintenance technology

Measure up to 130 m3/170 yd3 per truck/trailer bin*

Suitable for a wide range of loose bulk material load types

Automatic vehicle identification (with optional RFID tags)
Permanent measurement records

Remote access to records via USB, network, WiFi, cellular or Internet

LoadScanOverViewTM reporting and analysis software

 *  65m3 for trade legal use within New Zealand. 35m3 for trade legal use within Australia.
Read more…
Operation Modes
In standard operation vehicles are scanned empty and recorded in the system database. On subsequent visits the loaded vehicle is scanned and the load volume computed by comparing load scans against database records. Trucks and trailers can be identified manually, or they can be fitted with small RFID tags that automatically identify the vehicle(s) when scanned. In addition to recording vehicle ID and load volume the system can optionally collect load details such as product type or customer.
Alternatively, vehicles can be scanned 'in' and scanned 'out' for each load and the load volume is computed as the difference between the two scans. The vehicle can come in loaded and leave empty or come in empty and leave loaded. Two scans are needed for each load in this case and manual vehicle identification is required.
Useful Links
Volumetric Truck Measure
Discussion document about volumetric truck load measurement, the problems with traditional methods and industry practises and the LoadScan Load Volume Scanner.
National Measurement Institute, Australia (NMI) NMI delivers essential services to the Australian economy by providing the legal and technical framework for disseminating measurement standards; working with clients in industry and government to provide measurement expertise, calibration services, chemical and biological analyses and pattern approval testing; supporting Australia's standards and conformance infrastructure; and training.
New Zealand Measurement and Product Safety Service (MAPPS) The Measurement and Product Safety Service (MAPSS) works to make sure traders are aware of, and obey the laws regarding weight and measure. We administer and enforce the Weights and Measures Act.