Compost and mulch facility takes advantage of volumetric scanning technology
Project Details
| | |
| --- | --- |
| CATEGORY: | Bark, Mulch & Compost |
| LOCATION: | Matamata New Zealand |
| PRODUCT: | LVS-3BMF  Fixed |
| WEBSITE: | www.daltons.co.nz |
"Having a Loadscan scanner on site has revolutionised the measuring process at Daltons Ltd where we manufacture bulk potting mixes, mulches, composts and supply sand for construction use."  

— Colin Parker, General Manager, Daltons Ltd
Daltons Ltd, a family owned state-of-the-art compost and mulch facility takes advantage of volumetric scanning technology.
Daltons use Loadscan's load volume scanner (LVS) to scan raw materials coming into site, so it only has to pay for what it purchases. Daltons also use it to scan outward loads so customers are charged accurately.
The LVS is a measuring instrument that replaces manual measurement to determine volumetric truck measure. Volumetric load scanning works on the principle of comparing empty bin profiles against loaded bin profiles for the same vehicle to compute the load volume. It removes any uncertainties due to moisture content, compaction or loading variation when converting a truck weight, counting bucket loads or simply guessing.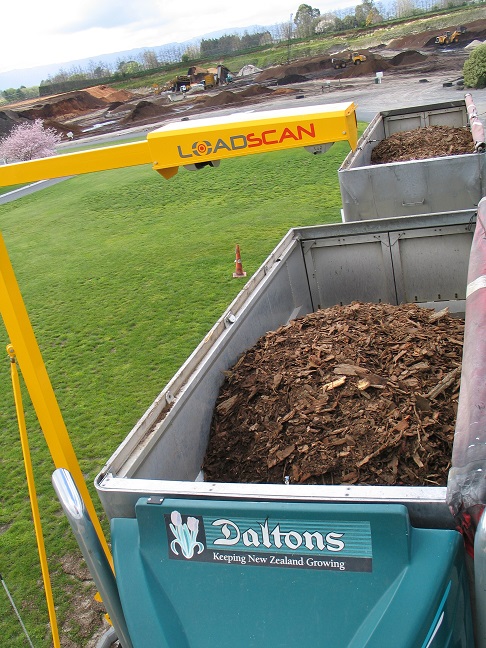 Daltons has banished irregularities in weight measurements from moving away from traditional scales methods. "It has saved us lots of time and money. Most products' weight to volume ratio alters regularly depending on rainfall. One cubic metre of dry sand weighs less than one cubic metre of washed sand. In reverse, that means a 30 tonne load of wet product will be less volume (m³) than a 30 tonne load of dry product. A load scanner removes this differential as you are only paying for the cubic metres purchased."
"I would recommend a Loadscan scanner without hesitation. It removes all doubt for both the seller and purchaser and reduces workload related to queries about load size. Furthermore, it will pay for itself in half the time you may expect. The software that comes with it is essential as it produces information for management accounting purposes in minutes — as opposed to what would normally take days to prepare, and it is far more accurate."
Loadscan's LVS system utilises laser scanning and RFID technologies combined with software that creates 3D model images of trucks to measure the exact volume of the material loaded in a truck or trailer bin.