Loadscan's mobile Solar Power Trailer (SPT) satisfies the full power requirements to operate our load volume scanners in remote regions.
The rugged mobile solar trailer can support up to 300W continuous 24/7 power draw with only six hours of peak sun exposure per day on the solar arrays (7,200W/hrs). Quick onsite set-up and integrated stabilisation and levelling jacks, plus a tilt range of 5° to 65° to optimise summer and winter sun angles, the Loadscan SPT is the ideal solution for remote power!
And when you need to move the SPT to a new location, the array folds up neatly and securely for easy transportation and rapid re-installation.
The four 325W solar panels deliver 1.3Kw of peak charging, and the half-cell design delivers optimum efficiency. The solar panels are the highest quality available, and mounted on a heavy-duty, fully adjustable weather-proof base, ensures a long trouble-free production life.
The Loadscan SPT has integrated Bluetooth connectivity for remote monitoring and setting of solar controller parameters. It generates no noise or pollution and is virtually maintenance free, making it the ideal no-fuss remote power solution.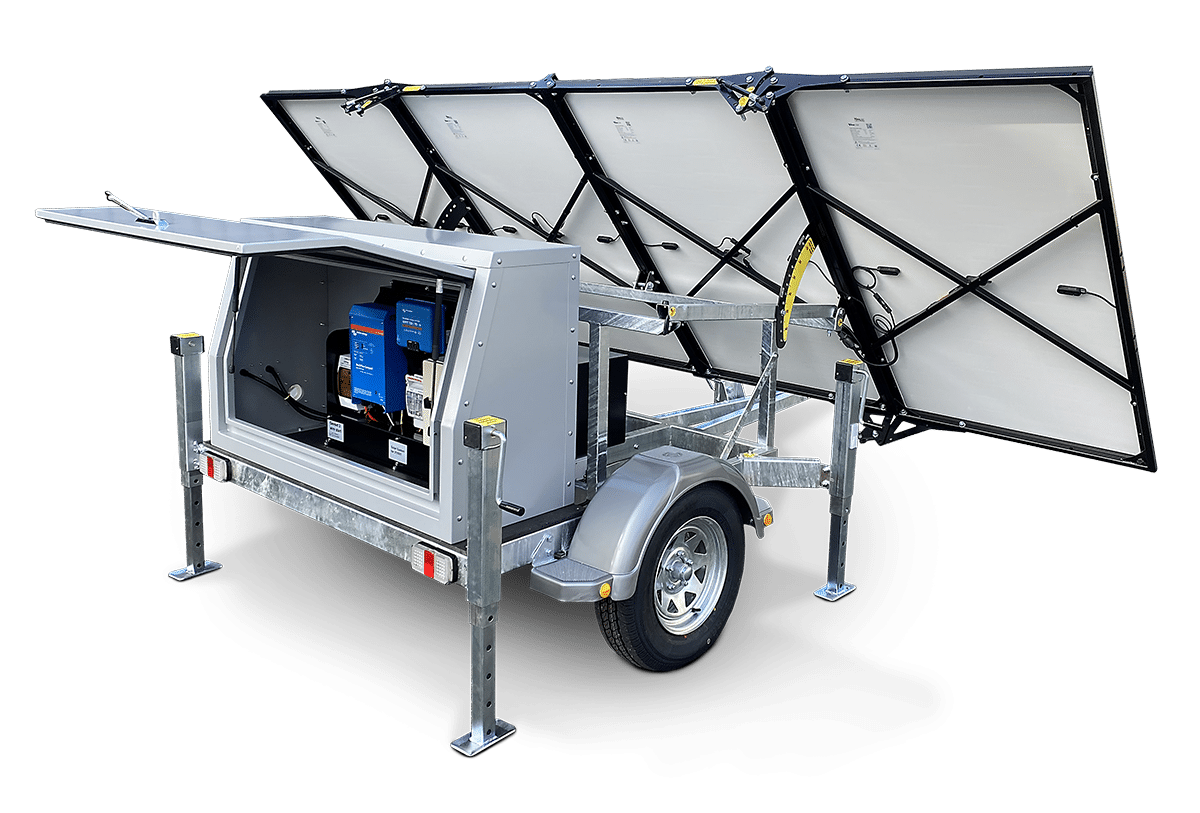 Trailer packs down easily for safe transporting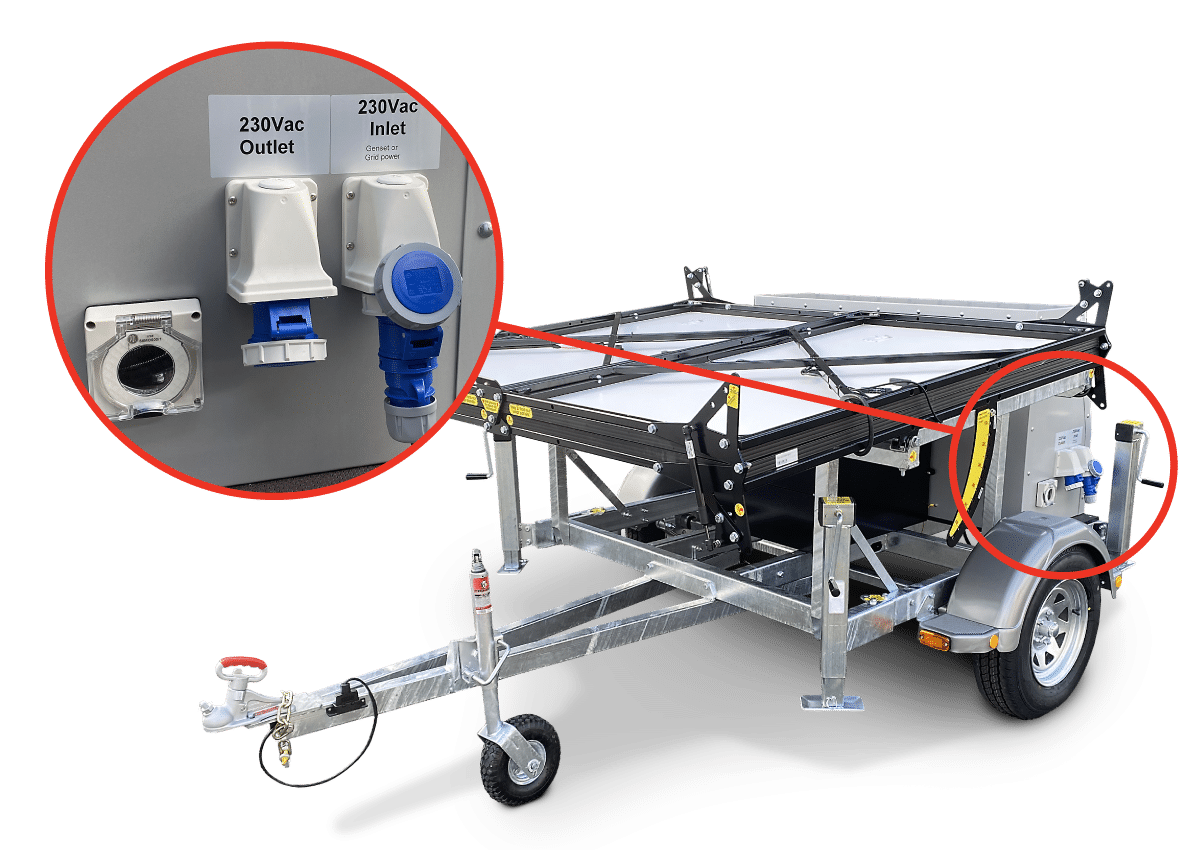 Up to 1.2Kw pure sinewave power output at 110Vac or 230Vac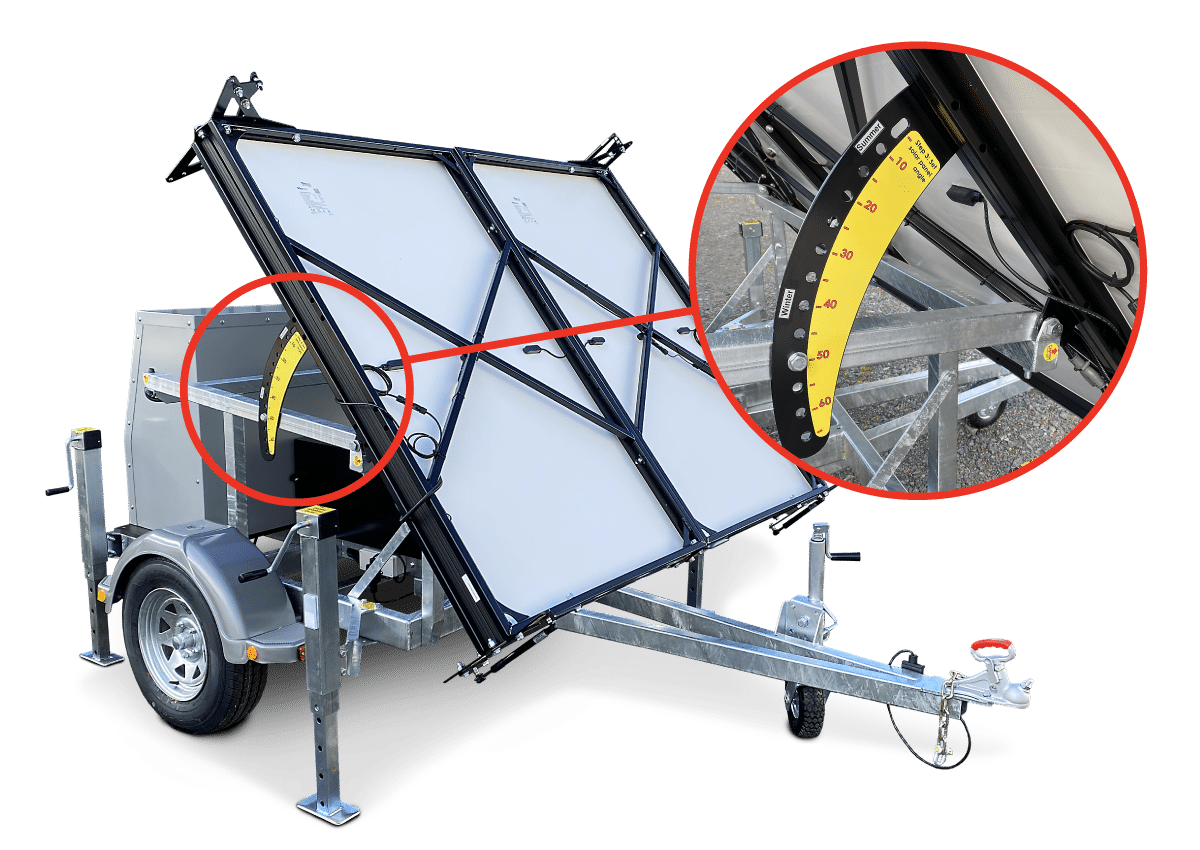 Adjustable tilt range of 5° to 65° to optimise summer and winter sun angles
Technical Specifications
Four 325W solar array panels, 1.3Kw peak charging

Tilt range — 5° to 65° in 5° adjustable increments

Temperature compensated MPPT Solar Controller with 98% conversion efficiency

Adaptive three-step charging

8.6KwHr battery storage (4.3KwHr usable)

Up to 1.2Kw pure sinewave power output at 110Vac or 230Vac (depending on model)

Built-in web control via Victron Portal-enabled remote monitor:
— solar voltage and current
— battery voltage and current
— load current
— temperature (via customer ethernet connection or modem)

AC voltage input port for generator or grid connection

Generator start/stop control via 2-wire connection