Are you losing money by the bucket load?
Get what you pay for and guarantee customer supply volumes
It can be hard to properly account for organic material — it retains moisture when it rains, it compresses during loading, it settles during transit, and every load is different.
With Loadscan you can accurately measure material by true volume — not weight or bucket count. You'll eliminate arguments over supply volumes and see how moisture content is affecting your bottom line.
Load volume scanning is a low maintenance, cost effective alternative that provides you with the full picture of your material movements, including 3D images and insightful data in real-time for every load.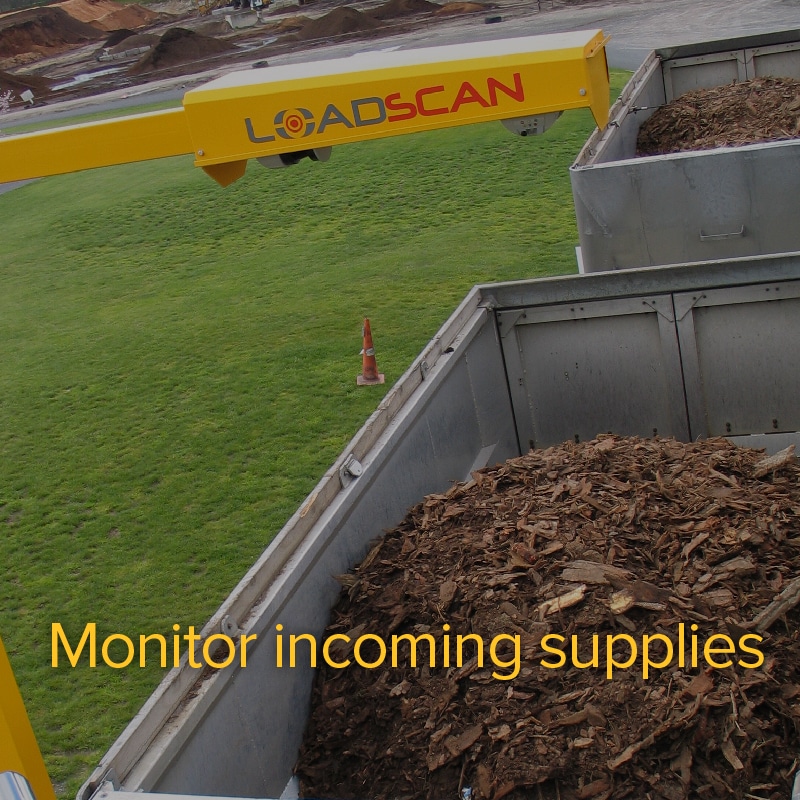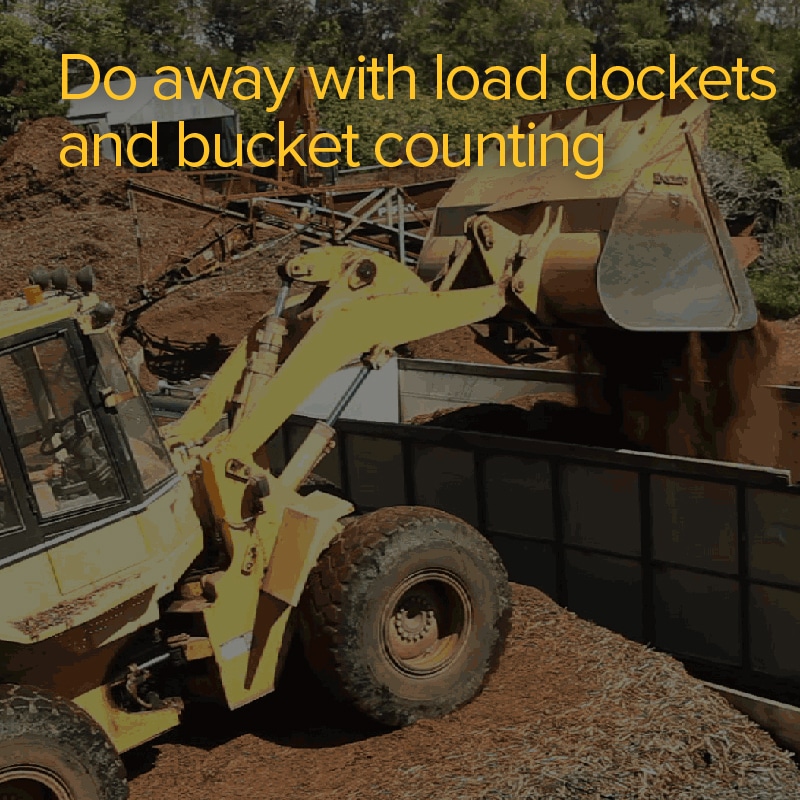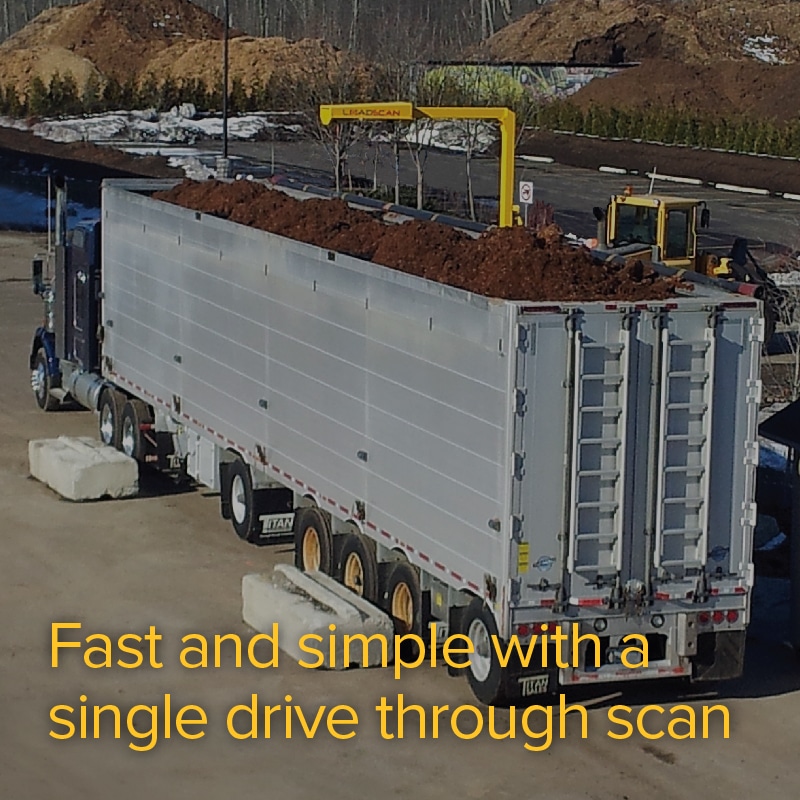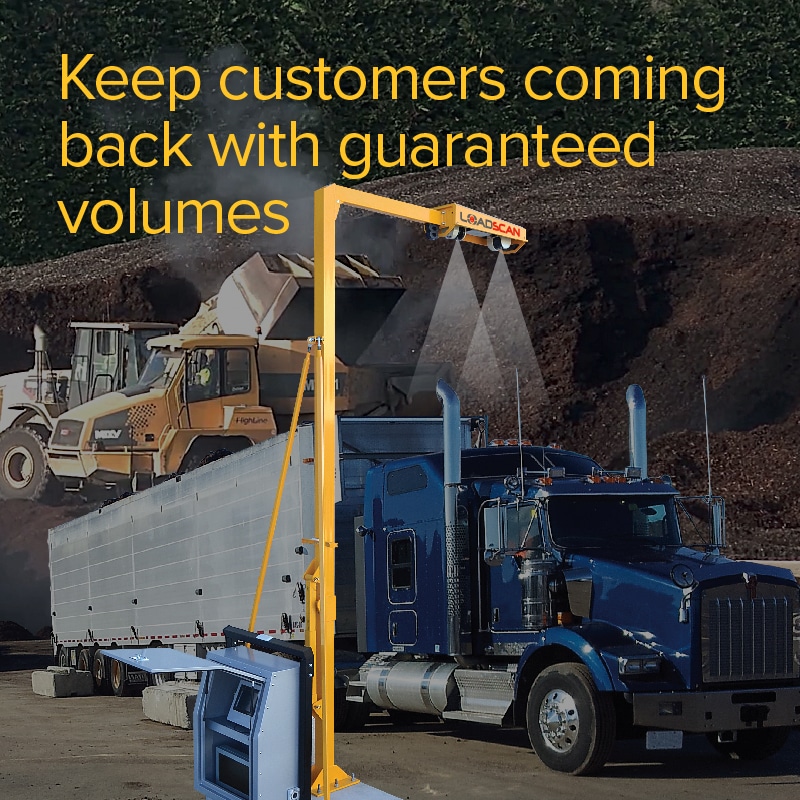 How load volume scanning works
Trucks or trailers drive below the scan head. Vehicles can be fitted with RFID tags to automatically identify them. The non-contact scanning process is fully automated and provides accurate volumetric measurement of every load, including 3D load profiles. Special load management software, called Overview, reports every detail.  Read more >>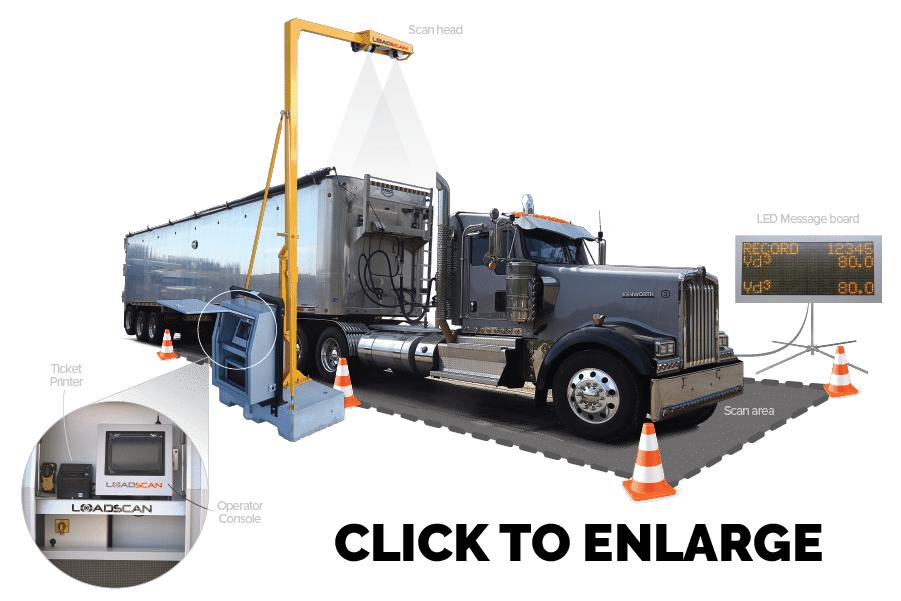 How Loadscan stacks up against traditional methods of determining loose measure
Bark, mulch, woodchip, topsoil, compost, peat, specialty garden mixes, and other bulk landscaping products and raw constituent materials are carted by the truck load and traded in cubic meters or cubic yards. Traditional methods of determining loose-measure (the volume of a pile of loose material loaded onto a truck) include weighing trucks, weighing or counting loader-buckets, manual "level-and-measure" or simply counting trucks — all of which are inaccurate and easily abused.
More cost effective than weighing
Unlike expensive weigh bridge installations, which require a lot of ongoing servicing and calibration, Loadscan is a touchless system that's relatively inexpensive and easy to install, is seldom out of service, and does not require routine re-calibrations.
More accurate than counting
Do away with counting bucket loads and/or trucks and eliminate inaccuracy and human error. Loadscan's automated data capture and docket printing means your loader operators can focus on the job at hand and arguments over supply volumes stop.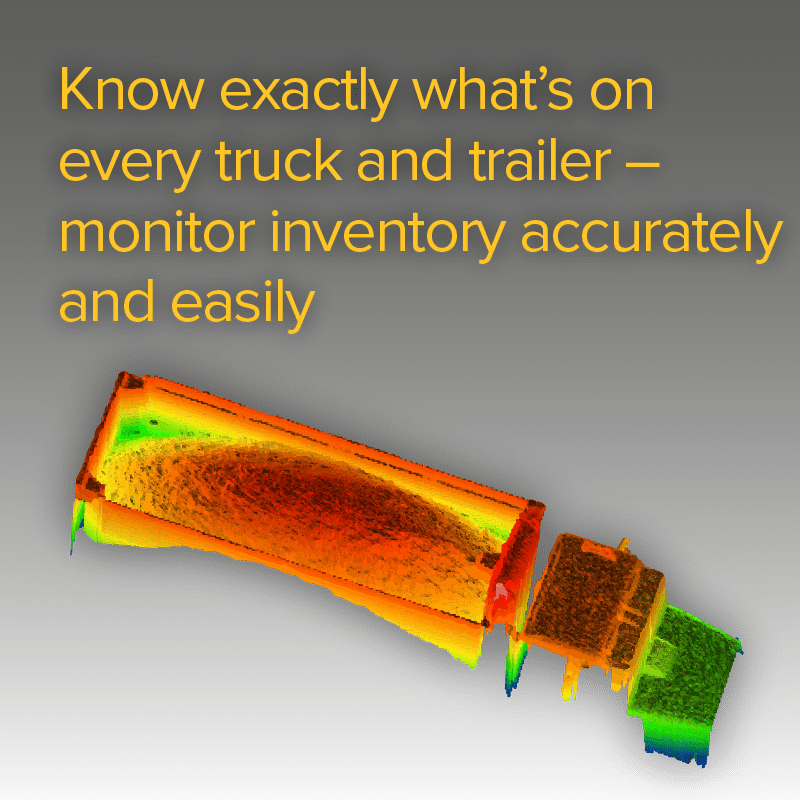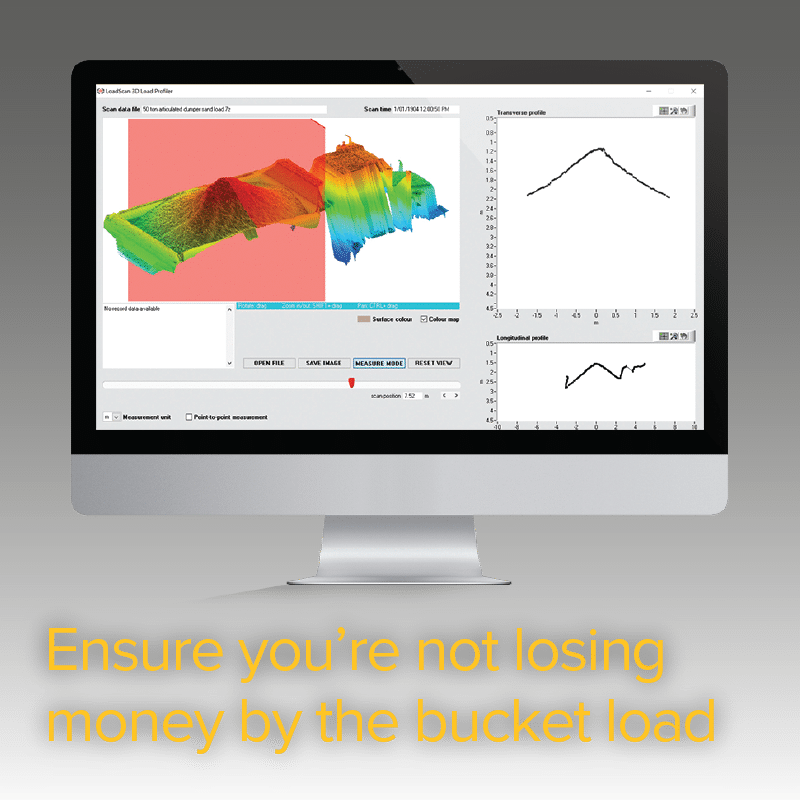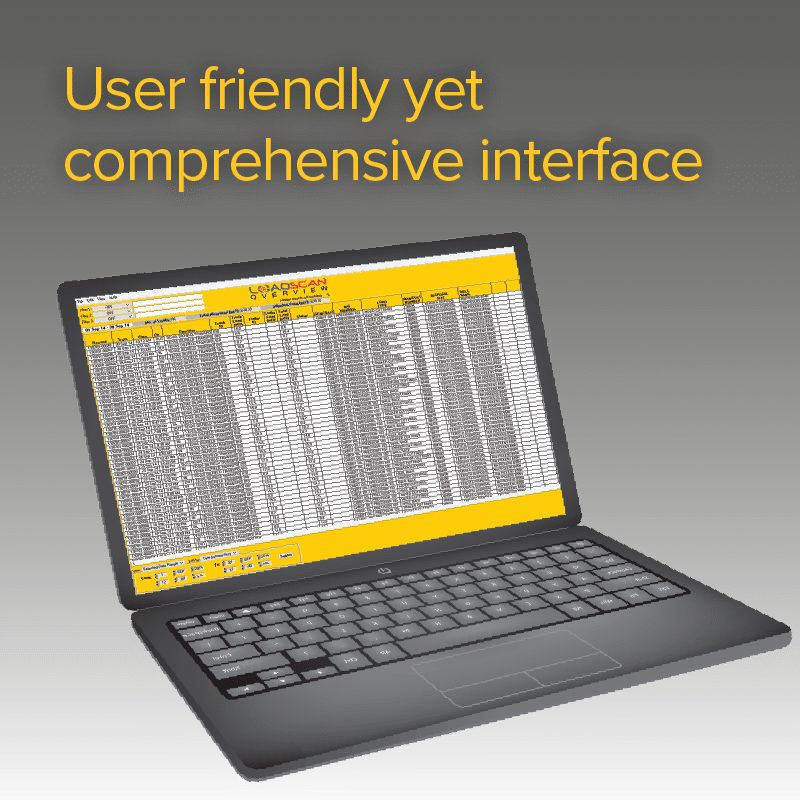 Smarter product management
When you're receiving multiple shipments of various bulk products in, and delivering various products out the gate, smart inventory management is vital. This method of load monitoring can provide a detailed picture of inbound and outbound material movements.
With Loadscan you'll easily…
Measure outbound loads allowing you to invoice accurately and provide customer supply guarantees.

Measure incoming supplies, encouraging raw material load consistency and size.

Collect additional load details, via data entry, such as product type, customer, supplier, order number, etc.

Choose customized period reporting, load profiling and remote control options.

Determine product densities by combining measured volume and weight data.

Measure large-scale mixing quantities during batch production.

Analyze load self-compaction and in-transit settlement.
Save time and money
Loadscan is a cost-effective solution that eliminates the need to install an expensive truck scale. You'll only have to install it once, with no major earthworks or fiddly calibration. You'll enjoy low running costs, full automation and low maintenance requirements.
Unlike competitor 'build-your-own' load scanning systems (which may appear cheaper at the outset but add up when all the required components are assembled) all Loadscan systems come complete with an RFID tag reader, docket printer, Loadscan Overview reporting software, and the ongoing support of our expert team.
Stop the arguments and excuses
Accusations of under-supply and excuses about "load settlement in transit", moisture content, and so on, are commonplace within the bulk landscape supply sector.
Loadscan provides a fair playing field. The load volume scanner (LVS) system reports the actual loose volume of the load as it sits in the truck at the time of measurement — regardless of how it was loaded or how heavy or wet the material is.
Having a load volume scanner on your yard will improve your material movement tracking and load data management, modify driver/loader operator behavior and lead to increased productivity.
LVS product options include portable solutions for short-term projects and trailer mounted mobile to allow you to scan and obtain data from multiple sites.
See how other bark and mulch producers are using Loadscan load volume scanners and what they're saying…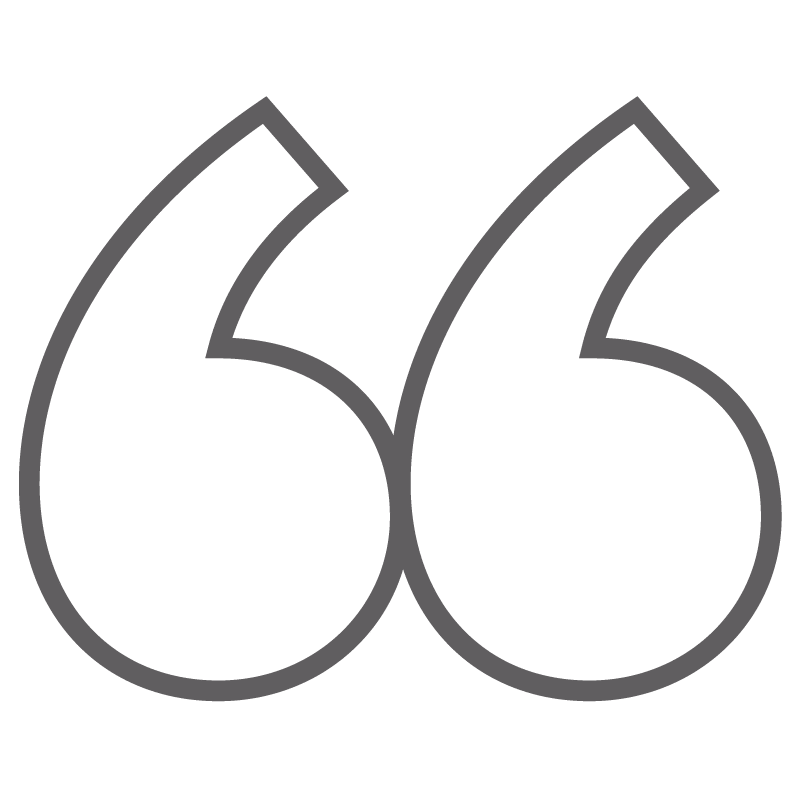 Buyers and sellers alike struggled with find a consistent method for loading trucks that was fair to everyone. Loadscan has solved all that.
– Dave Boyce, Midwest Trading Horticultural Supplies Inc, USA
We are very happy that both the scanners we purchased have worked without a glitch since day one…we have been 100 percent satisfied.
– Bill McKague, President, Gro-Bark, Canada
The Loadscan volume scanner has totally revolutionised our business. Our scanner paid for itself in no time.
– Kerry Gamman, Gammans Ltd, NZ