Guarantee aggregate supply volumes and manage quarry stripping with ease and accuracy

Keeping track of your overburden movements, and monitoring your aggregate deliveries, is a breeze when you utilise load volume scanning technology. Using RFID tags to identify every truck and trailer, you are able to fully automate the scanning process. With a simple drive-through scan, the system will provide a volumetric measurement as well as 3D load profile for every load.
If you're supplying material to the construction or landscaping industries, then you'll keep customers coming back by specifying the bulk volumes supplied. They're used to volumetric measurement and will appreciate the accuracy and assurance Loadscan provides.
Load volume scanning and Loadscan's load-management reporting system provides you with the full picture of your material movements.  You'll know exactly how much product has been supplied to any given customer and how much material is stockpiled.  By accurately measuring overburden carried out of the quarry, as well as the haul-back from every load, you'll be able to manage your quarry-stripping contracts with accuracy and confidence.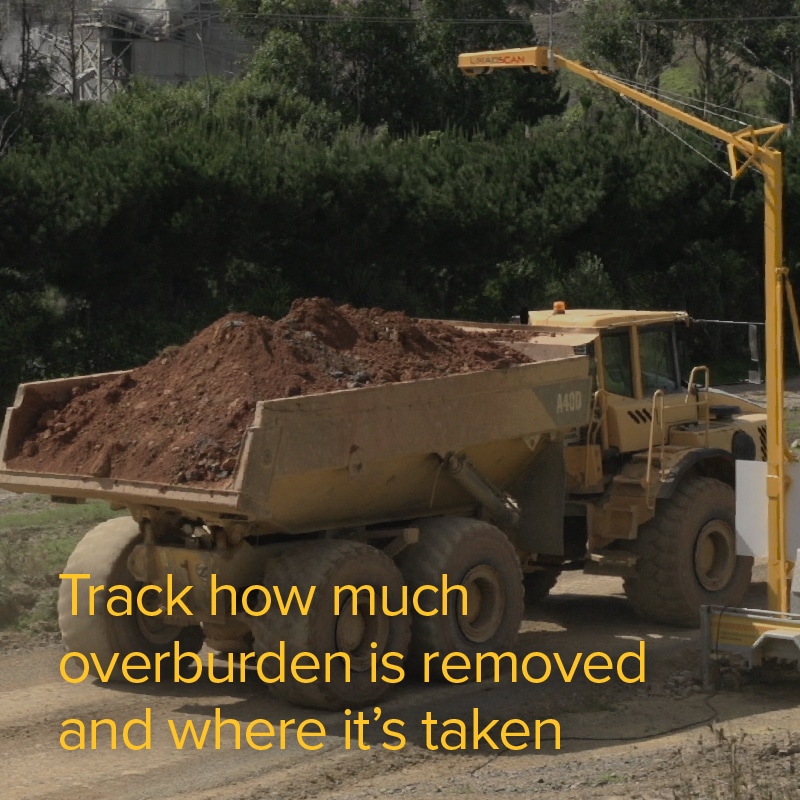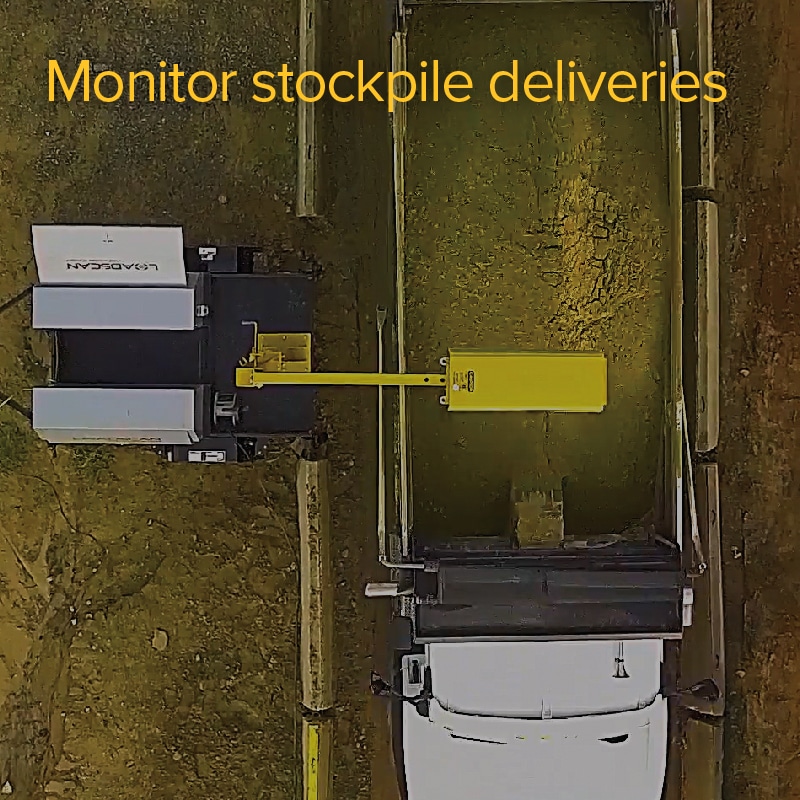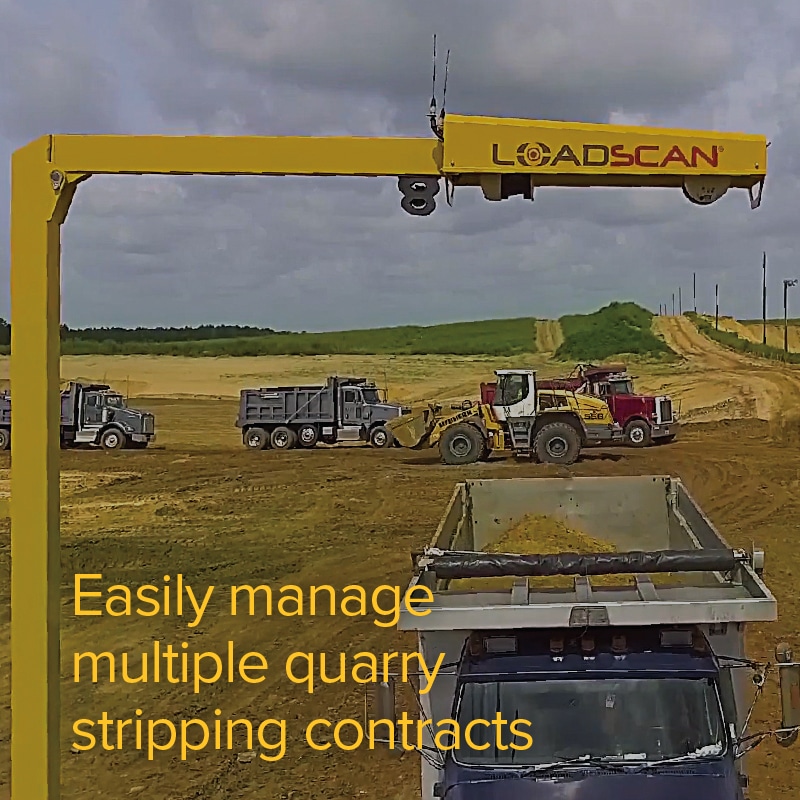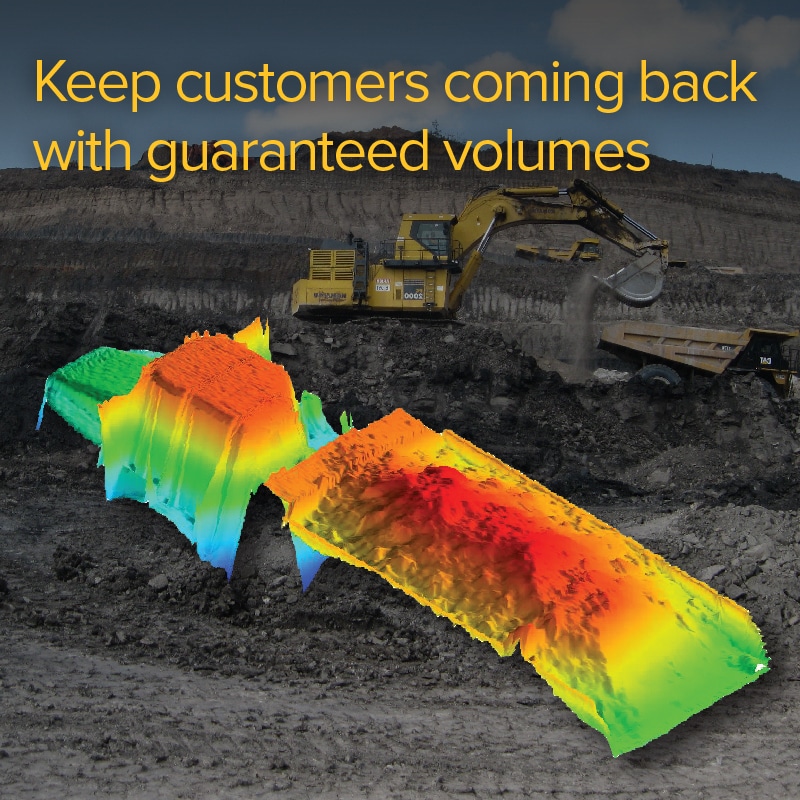 How load volume scanning works
Trucks or trailers drive below the scan head, which can be positioned on their ordinary quarry route. Each vehicle that you'd like to measure can be fitted with an RFID tag for automatic identification and recording. The in-motion scanning process is fully automated and provides accurate volumetric measurement of every load, including 3D load profile, and is detailed by our proprietary MyScanner software.  More…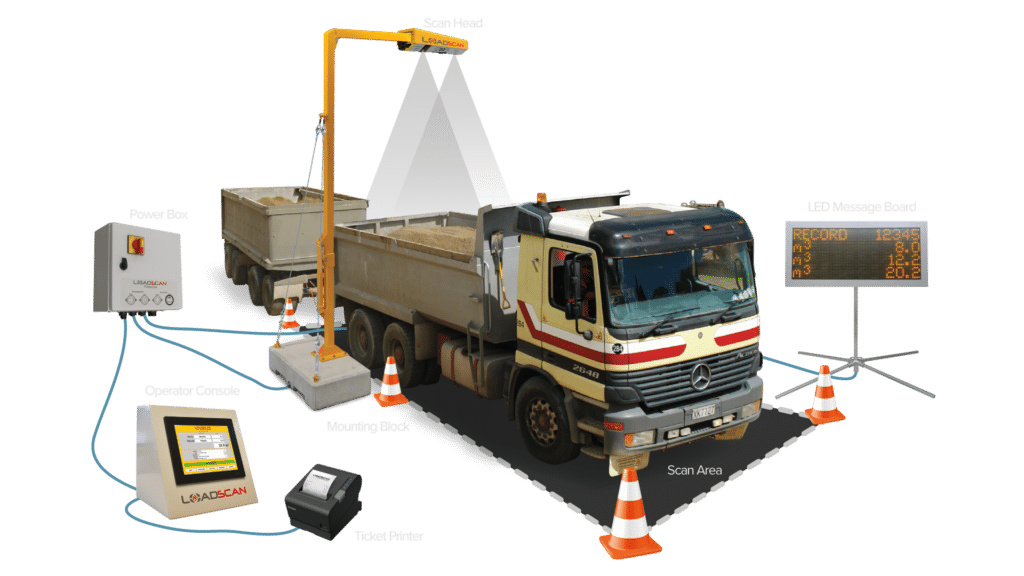 Being customer focused will give you the competitive edge
Your customers in the construction and landscaping industries work in bulk volumetric quantities. So, your ability to supply product by volume (rather than weight or simple bucket-count) will help you win jobs and keep customers happy. Loadscan users are winning large earthworking tenders thanks to their ability to provide accurate supply monitoring as part of their contract.
The load volume scanning (LVS) system can be used either as a stand-alone measurement solution or alongside existing weigh-bridge or on-board loader scales. The advantage Loadscan has over other sand, rock and gravel measurement systems is that it's low maintenance and enables much smarter product management with powerful software, which can be accessed remotely and interfaced with your office management system.
Load scanning for quarry stripping
Cut unproductive loading time

Loadscan is a touchless, in-motion system. Unlike onboard weighing systems, which require the truck driver to stop and speak with a loader operator to get a load docket, Loadscan keeps your operation moving.

Reveal true shift tallies

Automated traceability means you eliminate human error and the need to count loads or trucks. Loadscan facilitates management of haul back allowing you to reveal your true daily shift tallies.

Improve site flow

Using the built-in RFID tag reading system you can reduce traffic congestion and improve site flow by automating truck identification and load docket printing.

Input data on the fly

Loadscan's in-cab touch-screen consoles enable your off-road quarry trucks to upload information about what materials are delivered to which stockpiles. Improve inventory control and reduce the need for surveying by scanning and recording deliveries to stockpiles.

Move on to the next pit

Our LVS systems are available in portable and mobile versions to best suit your situation and to maximize your investment.  A mobile scanner can be deployed where you need it — whether that is in a different area of the quarry or for remote and temporary quarry projects.

Accurately account for imported material

When you don't have a scale, or when you import by volume, an LVS is the ideal way to measure incoming clean fill for back-filling land rehabilitation.
Volumetric measurement for aggregate extraction
Save time and money

Unlike expensive weigh bridge installations, which require ongoing servicing and calibration, Loadscan is relatively inexpensive, easy to install, is seldom out of service, and does not require routine re-calibrations.

Gain accurate load-out data

You'll measure outgoing loads of processed product more accurately and quickly than was possible with traditional methods. And you can determine product densities by combining volume measurements with weight data.

Boost loader productivity

The LVS system not only reports actual load volumes — it trains loader operators too. The feedback that the LVS provides to loader operators significantly improves accuracy and consistency of loading to target volumes.

Monitor inventory with ease

You'll know what raw quarried material quantities have been hauled to crushers and stockpile making inventory tracking hassle-free.
Customer supply volume guarantee
Greater accuracy and assurance

Do away with counting bucket loads and/or trucks and eliminate inaccuracy and human error. Loadscan's automated data capture and docket printing means your loader operators can focus on the job at hand and arguments over supply volumes stop.

Provide richer data

The LVS system can manually collect additional load details such as product type, customer, order number, weight docket, etc. with each measurement.

Be informed

You'll be able to easily access real-time and historical period reporting for invoice generation, inventory analysis and win-rate calculation with report generation in Microsoft® Excel.

Insight into aggregate properties

Use electronic reporting as an alternative to check surveyed quantities as survey quantities don't take into account for bulking factors by the truck load. Your LVS system will give you insight into water content and seasonal variation.
See how other quarries are using Loadscan load volume scanners and what they're saying…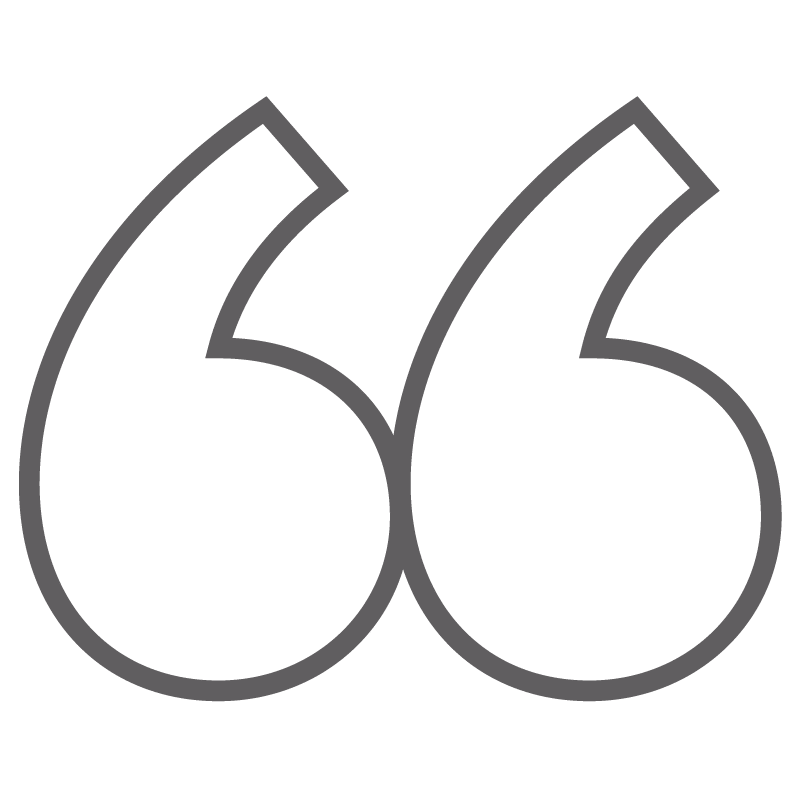 We use the scanner to tell us the exact cubic metres of gravel our trucks are carting to a contract. The contract is paid for by volume so we find the scanner perfect as it gives us the cubic meters for each truck and trailer and then gives us our total tally each day, each week and each month.
– Murray Francis, Road Metals Co Ltd, NZ
At A&R Earthmovers the Loadscan scanner is used for a range of things such as: measuring imported metal that is being used to build our roads, measuring fill that is carted around site, and selling pumice and our other products out the gate.
– Cassidy Schulz, A&R Earthmovers, NZ