First solar powered LVS is a success at Teranga Gold
Loadscan's first off-the-grid solar powered Load Volume Scanner (LVS) system is proving successful at the Teranga Gold Corporation in Senegal, Africa.
The gold mining operation purchased Loadscan's LVS-3TMM and commissioned them to manufacture and supply its first 24-hour solar system to measure the quantity of gold bearing ore carted by trucks from other mine sites in the area to the processing facility.
The LVS system utilises laser scanning and RFID technologies combined with software that creates 3D model images of trucks to measure the exact volume of the material loaded in a truck or trailer bin.
The solar system generates power during the day and charges a battery pack that powers the scanner throughout the night. It has an option to connect to mains power or a generator to power and recharge the batteries if the solar generation is not enough to keep them topped up. To date, it has been completely self-sufficient: running off-grid with all power coming from the solar system. The trucks have RFID tags so that they automatically get identified by the LVS system.
Carey West, Managing Director of Loadscan said, "It was an interesting and fulfilling project configuring the solar system to Teranga Golds requirements. It was a first for the team at Loadscan, and we're proud to have produced a fully portable self-contained solar system that has proven to deliver power and keep the LVS system working 24-hours a day without interruption.
"The LVS system was out in a remote location. With the nearest power 1.5km away, the power cables would have needed to be trenched underground and would have been costly to install. With the Loadscan solar system in operation the mine site did not need to trench power cables out to the scanner or need to run a generator every day where maintenance and constant refueling would have become expensive and unreliable."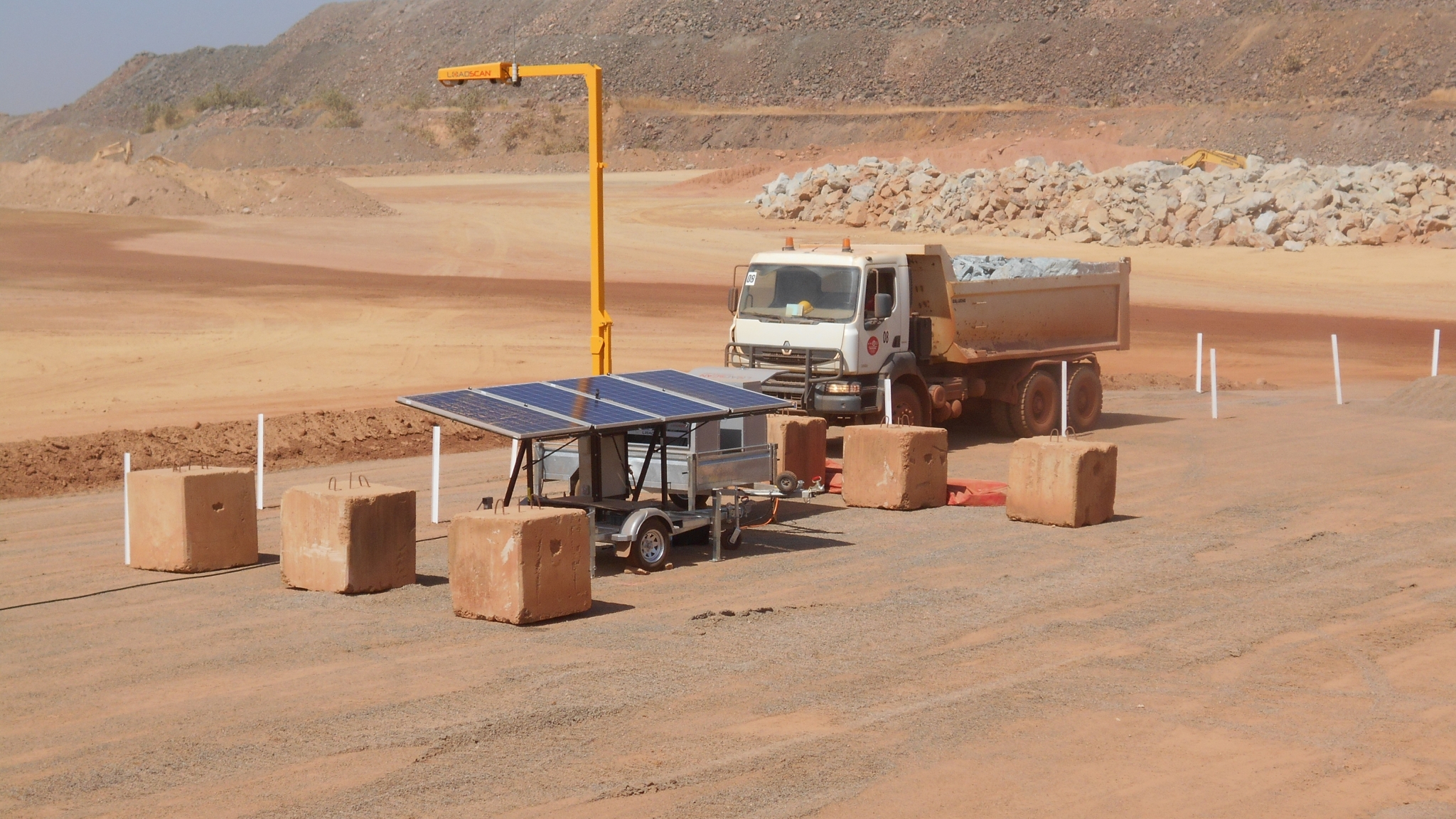 The scanner is connected to the main office by point to point Wifi so that the data from the scanner is transferred directly back to the office where they use Loadscan's Overview reporting software.
Teranga aims to achieve benefits for all parties involved through responsible mining. They contribute to the sustainability and improved livelihoods for the communities in which they operate.
Loadscan's LVS-3TMM is a fast and fully mobile truck measurement and load scanning solution. The self-contained mobile truck measurement system can be driven to site and be setup and operational in as little as 45 minutes.
Loadscan LVS scanner systems are available in portable, semi-portable and fixed gantry models to best suit the customer's application. The range of measurable load materials and truck types has been extended. LVS devices are now successfully operated on a full spectrum of truck and trailer designs including on-road truck and trailers, semi-trailers and centre-dumpers, as well as off-road articulated dumpers and quarry trucks.
Further information is available from Loadscan Ltd., on 0800 825 592 or 1-800-747-2973, email sales@loadscan.com or by visiting the company's website www.loadscan.com