Which of these issues keeps you up at night?
Underloading
Underloading requires additional truck movements to shift the same amount of material, reducing profitability.
We help mines to optimise loading by maximising every load, thereby increasing trucking factors and improving profits. Our load scanner accurately measures all loads and automatically generates 3D scan images that clearly indicate underloading, enabling corrective action (including operator training and coaching) to be taken.
Click on the scatterplots below to see how one customer improved their loading with
the implementation of our LVS.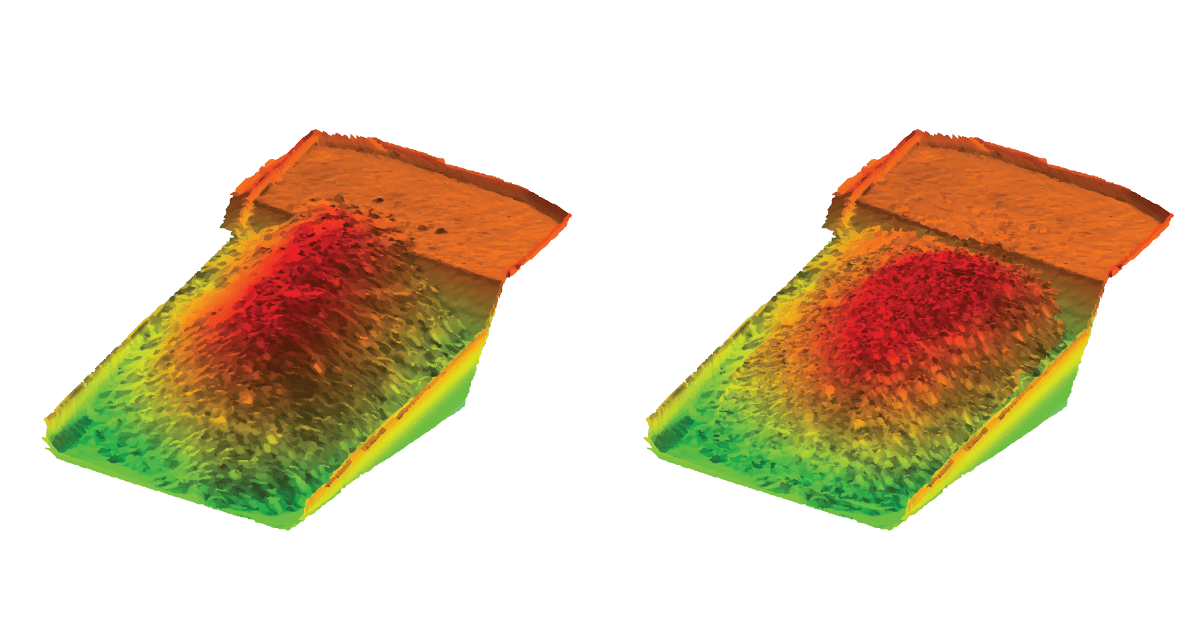 Optimally loaded
88.9 tonne payload = 49.4m³
= 11,249 truck loads
Underloaded
76.8 tonne payload = 42.7m³
= 13,021 truck loads
Underloading requires 1,772 additional truck loads
An example of CAT777 to shift 1,000,000 tonne material
(Based on density factor of 1.8)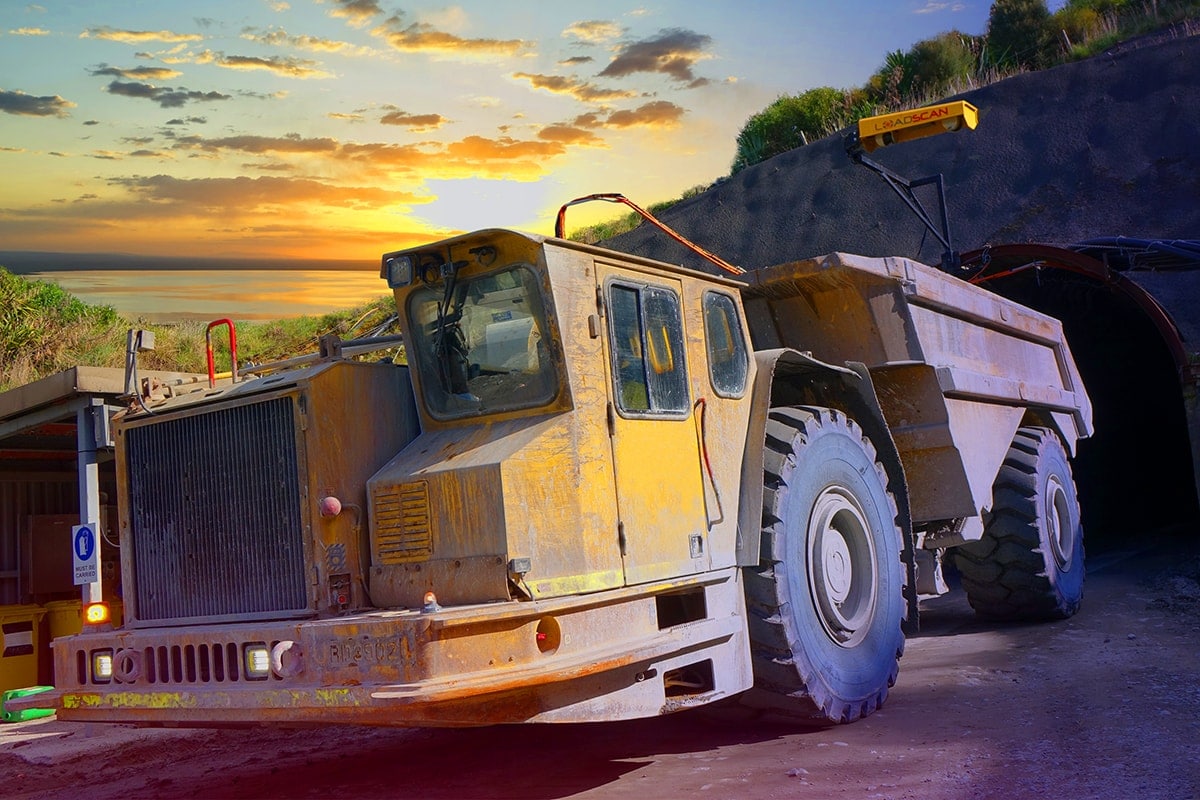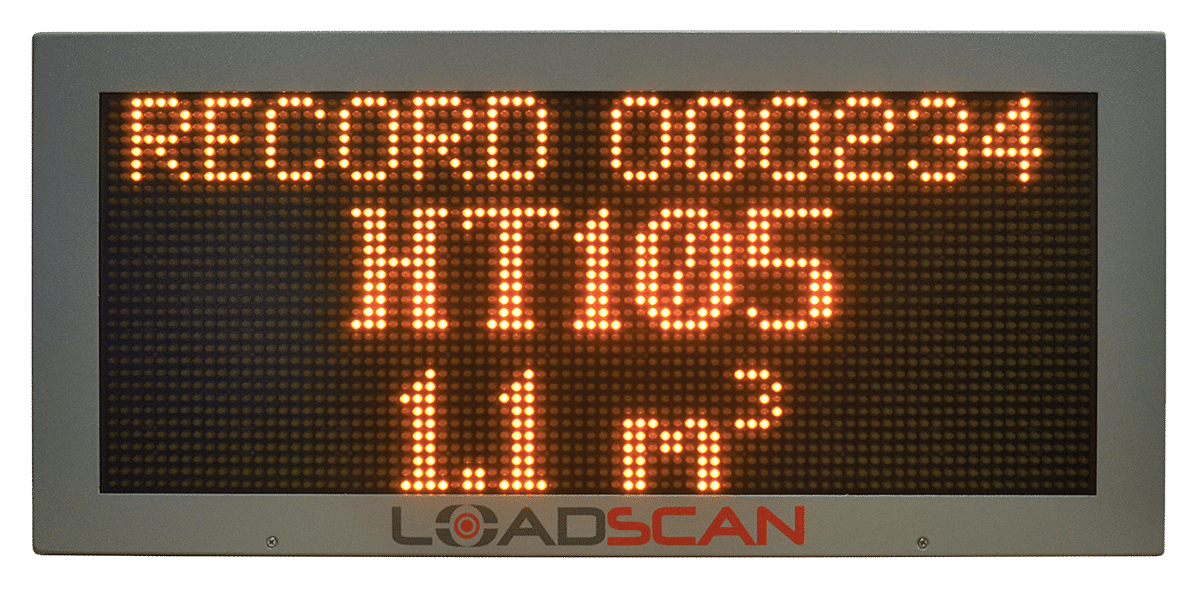 LED message boards indicate amount of material left in bin. Once set threshold is exceeded, the driver can have the bin scraped to remove carryback.
Carryback
Carryback is a common problem wherever material is being shifted and can seriously impact productivity.
By scanning all loads with the Loadscan LVS, carryback out of the mine is accounted for and can be deducted from shift tallies, improving accuracy of actual loads shifted. In addition, carryback can be identified through data shown on the message board and quickly removed from the bin.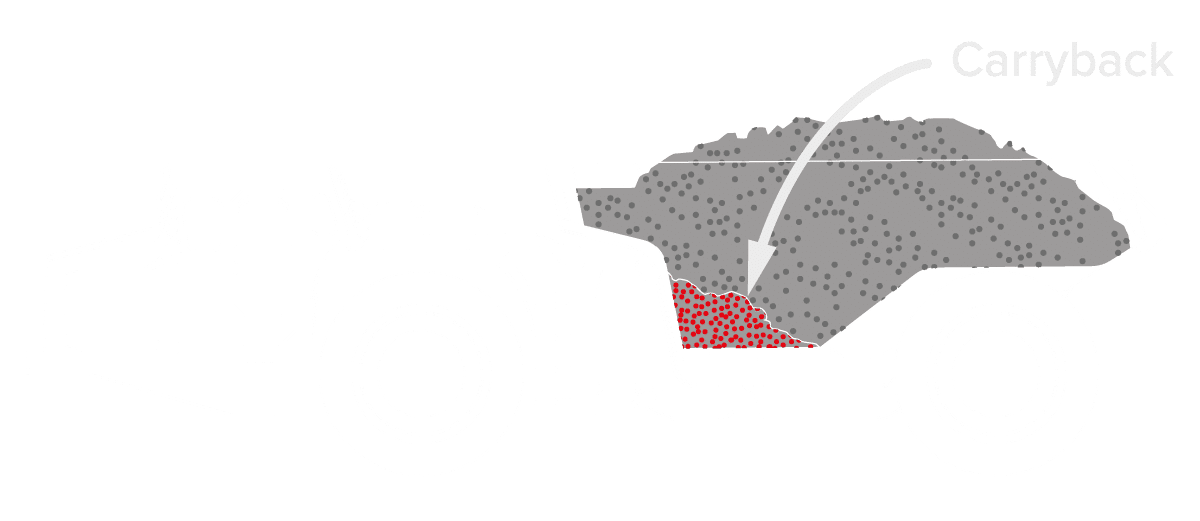 Off-centre loading
Off-centre loading can substantially increase operating costs.
Uneven load distribution adds stress to truck components, reducing their working life and adding substantial costs to your operation. In addition, this can create excessive tyre wear, voiding warranties and requiring premature replacement.
The 3D scans generated by the system provide a valuable visual reference that can be used for training and coaching loader operators.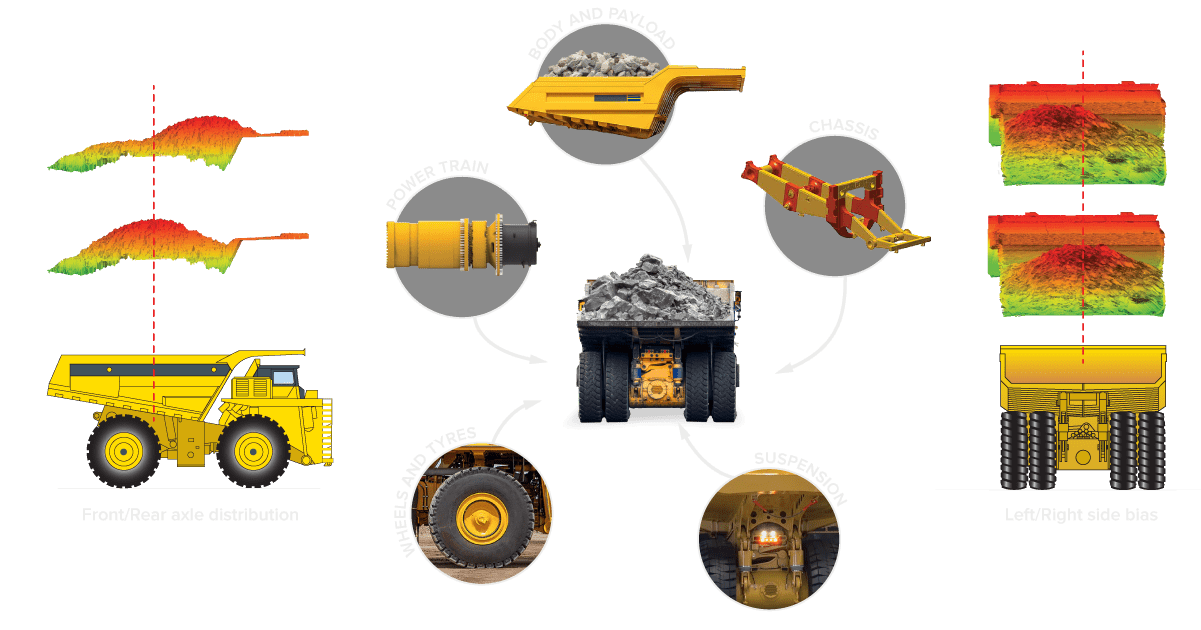 Inaccurate payload weight
Does it really matter whether you measure payloads by weight or volume? We think it does.
Despite being used extensively in mining, weight-based measurement has many shortcomings. This can be due to moisture in the material or which part of the rockface the ore is extracted from or how the bucket has been loaded.
By combining weight and volume measurement you get enhanced measurement accuracy of bulk densities and payloads. Volume measurement allows you to measure the ACTUAL load volume in a truck or trailer bin, regardless of the theoretical capacity.

Read the full story on why why combining weight with volume measurement delivers the most accurate and reliable results.
CLICK HERE
Volume scanning delivers extensive benefits for mines
Easily identify and correct underloading to increase profitability

Improve loader operator performance and optimise trucking factors

Measure actual volume, not a converted weight estimate

Measure and account for carryback

Remove discrepancies between quantities hauled and mill processing data

Account for every load delivered or removed from site

Gain a better understanding of bulking and compaction factors

Improve ore body knowledge with volumetric as well as mass data

Automatically track truck arrival and departure times

Eliminate hand-written load dockets and manual docket processing

Proven accurate to +/- 1% (and certified for Trade in NZ and Australia)

No significant maintenance costs or recalibration required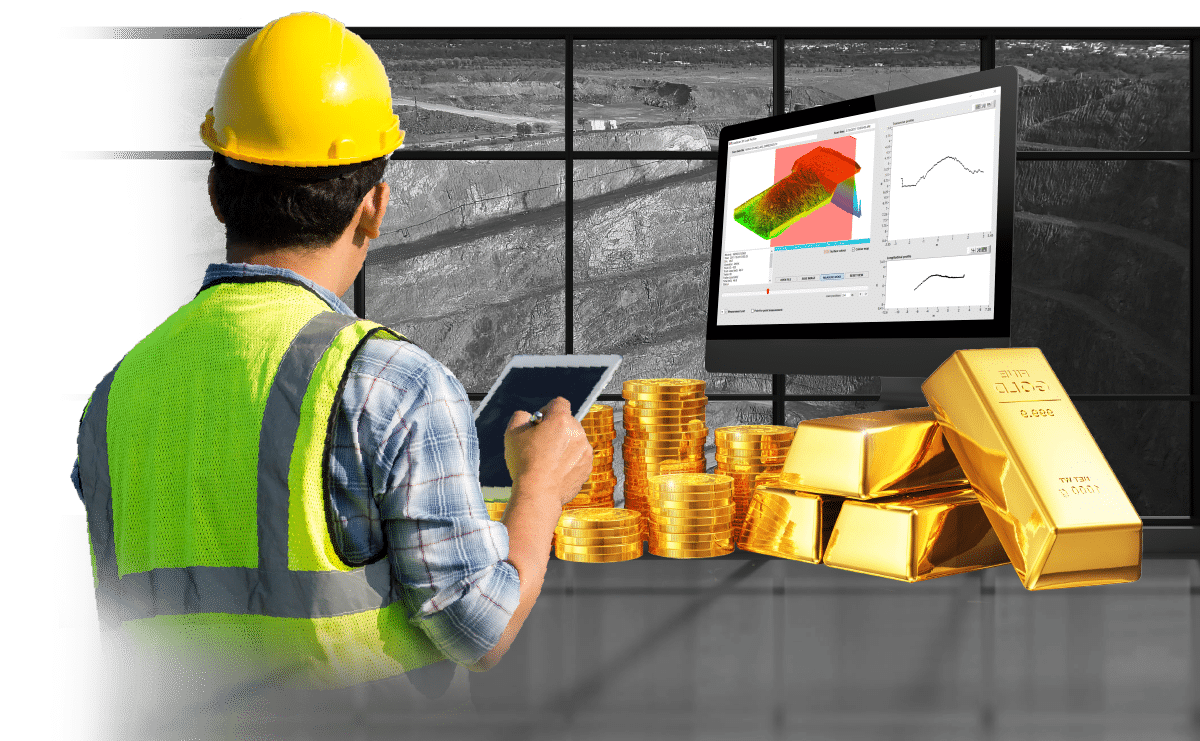 Fast return on investment
Mines across the globe are leveraging load volume scanning technology to maximise payloads — with most mines reporting trucking factor increases of approximately 15%.
Unlike onboard weighing systems and expensive weigh bridge installations, which require a lot of ongoing servicing and calibration, Loadscan is a touchless system without wear-parts. The load volume scanner (LVS) is a low maintenance, cost effective alternative (or complement) to weigh scales — it is seldom out of service and does not require routine re-calibrations to retain its accuracy.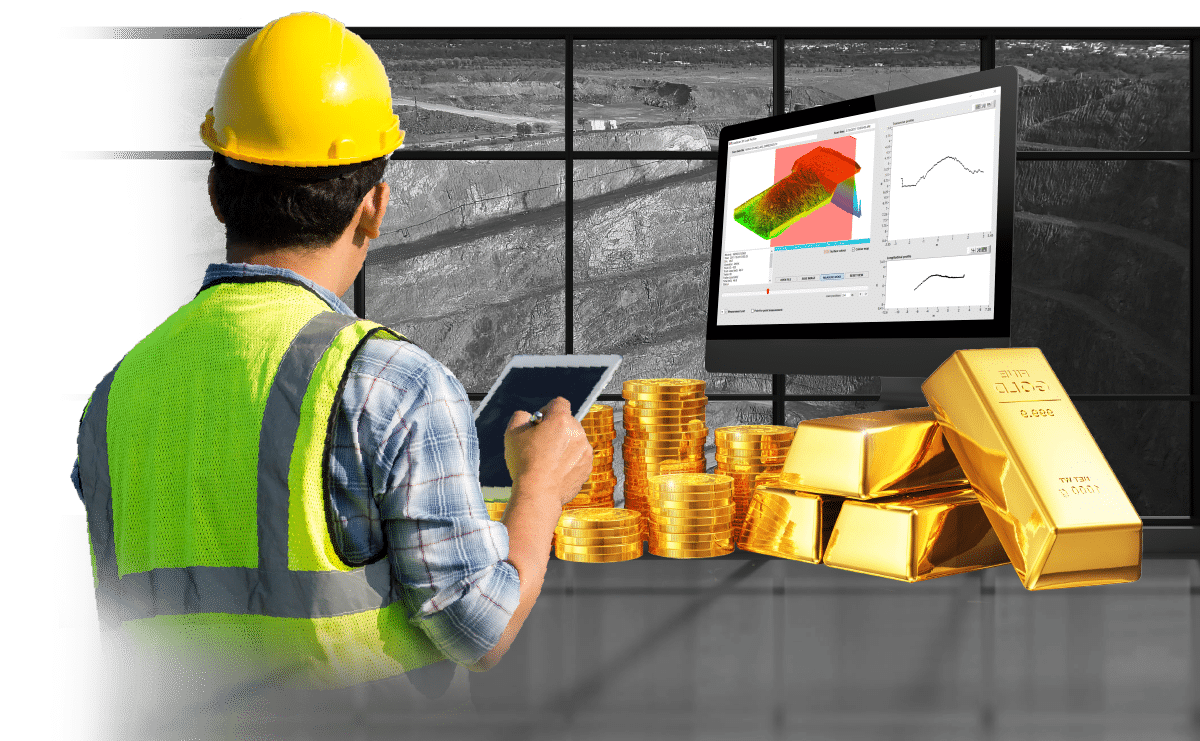 Autonomous payload management
The LVS is the original patented automated, drive-through payload measurement system. Fast and simple, it takes the guess work out of accounting for ore movements and is fully automated with an RFID tag reader to automatically identify trucks.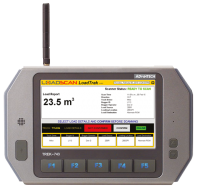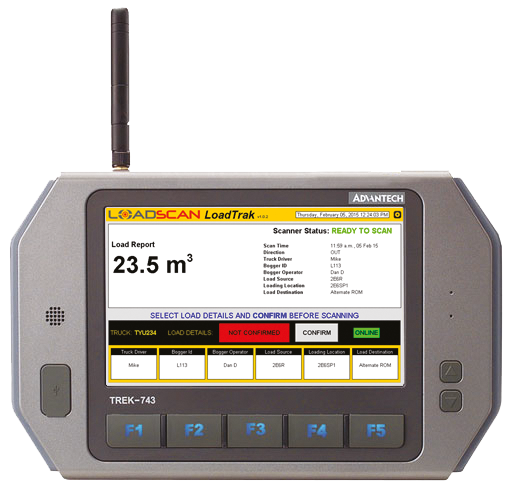 Our proprietary mining software reports every detail of every load, and provides 3D profiles, which you can use to immediately identify sub-optimal loading and train loader operators and truck drivers to safely maximise payload.
Automated data capture and docket printing means your loader operators can focus on the job of loading and keeping trucks moving.

Powerful in-cab consoles
Accurate data for complete control and better decision-making
Every load record is stored in the system and connected to your desktop by LAN, WiFi or Cellular network. Data is viewed and sorted using our proprietary Overview reporting software and can be exported to Microsoft Excel, or imported into existing business systems. In addition, data can be imported into mine management software packages through an API, enabling users to manipulate and model load data to their own particular requirements.
Live data for optimised production
Accurate measurable information you can trust

Real-time production data

Remove discrepancies between quantities haulage contractor and mill processing data

Import load data directly into mine management software and business information systems via API
Powerful software tools to support the LVS.
Click on logos below for details…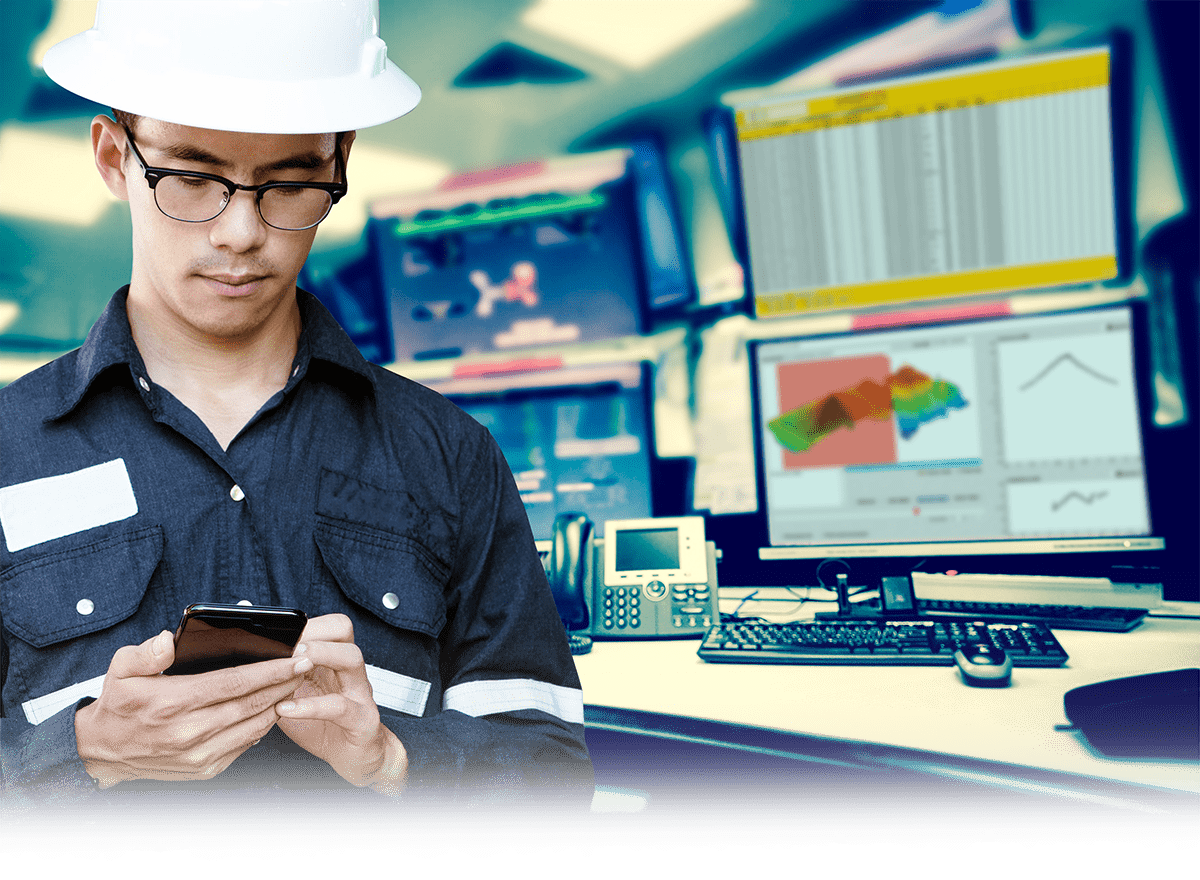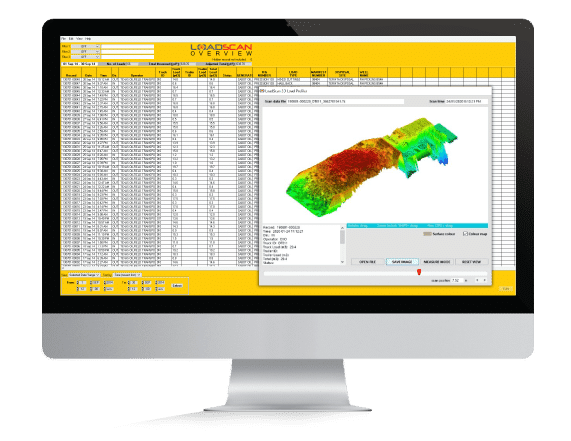 We're adding tangible value to the mining industry…
"It is a very, very reliable system. It is accurate, has been easy and seamless to implement and its reliability is very impressive. The support supplied, on the odd occasion we have needed it, has also been impressive." 
— Oceana Waihi Gold, New Zealand
"We don't know how we did without the Loadscan system in the thirteen years prior. We simply could not run the mine site without it now." 
— ODOD Gold, Mongolia