Mining productivity is all about moving the maximum amount of material as efficiently as possible, shift after shift. Do you have accurate, reliable material haulage measurement, analysis and reporting systems? Are you loading trucks to capacity every time — without overloading or unsafe loads? Does your operation just count trucks — leading to a culture of under-loading to increase load count?
Either stand-alone or supplementing existing mining weighing systems and monitoring/dispatch software the LoadScan Load Volume Scanner (LVS) system has been proven to improve the accuracy of material movement tracking and load data management, modify driver/loader operator behavior and lead to improved haulage efficiency and increased productivity.
More than just Mining Load Measurement
"Haul-back" measurement with tray clean-out message triggering and negative total adjustments.
Loose product density calculations by combining LVS volumetric data with weight data.
Direct "loose measure" volumetric comparisons to surveyed "solid measure" volumes without conversion from weight.
Customized period reporting, load profiling and remote control options.
Portable solutions for short-term research projects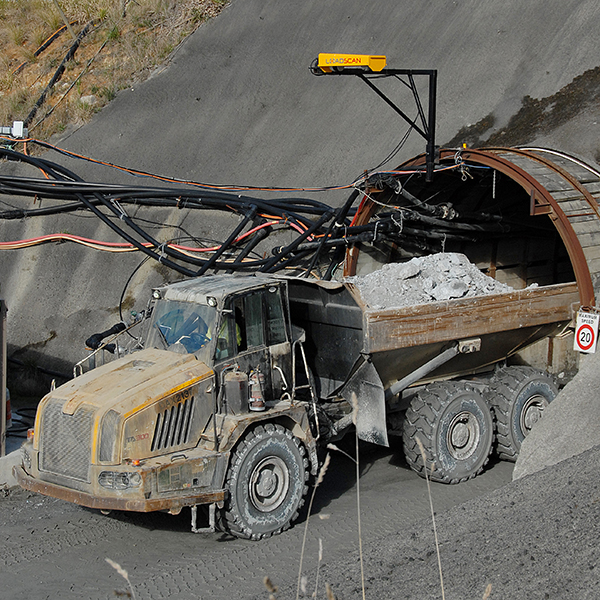 Mining Applications and Benefits
LoadScan solutions for mining combine Load Volume Scanner measurement technology with mining specific software options for smarter haulage management.
Low Maintenance Mining Payload Measurement
Non-contact, in-motion truck payload measurement without the need for regular servicing or calibration.
Cost-Effective Solution
No need to outfit an entire fleet of trucks with on-board weighing systems or install an expensive fixed truck scale. Single installation with no major earthworks or fiddly calibration. Low running costs, full automation and low maintenance requirements make the LVS system very competitive on price.
Accurate Quantity Reporting
Fast and accurate volumetric measurement in cubic metres or cubic yards with optional computed weight reporting using pre-defined (updatable) density values for each material type.
Real-time Performance Monitoring
Accurately track material movement totals against performance targets in real-time. Optionally collect additional custom load details for period reporting and analysis.